One of the first thing to know about livecode is the connotation of stack and card.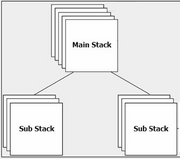 A stack is any program window. It just designate where is the program windows and its decorations. Any stack can have multiple cards.
Any card is a place where you put the controls, so you can change the window appearance just changing the card of the stack. Just to give yuo a picture, it's similar to the installation programs where you press the next button.
Moreover a program may be contain may windows, any other window of your program is called substack. Substacks are like stacks, the can have multiple cards.
Ad blocker interference detected!
Wikia is a free-to-use site that makes money from advertising. We have a modified experience for viewers using ad blockers

Wikia is not accessible if you've made further modifications. Remove the custom ad blocker rule(s) and the page will load as expected.