Welcome to the Livecode Wiki
Edit
A wiki about the LiveCode programming language. LiveCode helps you create apps for multiple platforms in few minutes. Quickly. Easily. Free.
The last version of livecode is 9, Linux users please read about this bug and how to solve it: http://forums.livecode.com/viewtopic.php?f=20&t=28437.
All versions can be downloaded from 4.5 on http://downloads.livecode.com/livecode/ .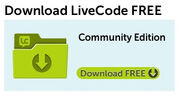 LifeCode is free for open source projects.
LiveCode is an open source language.
If you want to modify or add pages, you are welcome to, and please read this page: Wiki formatting style.
TO DO LIST contains a list of tasks to complete on this wiki, please help us with these tasks.
Our most active members list is here: Special:Leaderboard
This wiki contains many sub-pages. Tip: Use the search box to find more information.
Other LiveCode resource are listed on the Links page.
Table of contents
Edit
Ad blocker interference detected!
Wikia is a free-to-use site that makes money from advertising. We have a modified experience for viewers using ad blockers

Wikia is not accessible if you've made further modifications. Remove the custom ad blocker rule(s) and the page will load as expected.